Phoenix, Arizona Tree Nursery
Because trees are a part of nearly every Phoenix, Arizona environment, they are often taken for granted.
From their green supple leaves to their hardy wood trunks, it is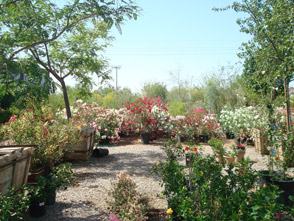 easy to forget the various ways trees contribute to our lives. They form the structure for the homes we live in, they cover the floors we walk on, and they reduce the pollution in the air we breathe. We even count on trees to provide us with nourishment through the fruits, nuts and syrups they produce. Trees even lessen the impact of the hot sun, prying eyes, noisy streets, and gusty winds that we encounter on any given day in Phoenix, Arizona.
At Whitfill Nursery, you know you're receiving a tree that is at home in the desert's challenging climate.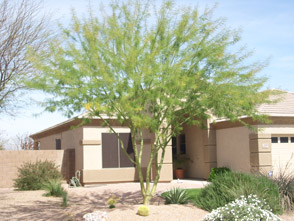 As a grower-direct tree nursery with our own family tree farm in Phoenix, Arizona, there is plenty to choose from when it comes to thriving desert trees at Whitfill Nursery. We offer the following tree types:
Palm Trees
– giving your environment a snapshot of the island life, palm trees come in numerous varieties including Pygmy Date, Queen Palm, Mediterranean Fan, Mexican Fan and Date among others.
Desert Trees
– it takes a special tree to survive the desert's harsh sun and to cope with the regular drought conditions in Phoenix, Arizona. Choose from Mesquite, Palo Verde, Sisso, Acacia, Rosewood, Ash, and Ficus among many others to give your garden the depth it needs while withstanding the desert's environmental challenges.
Shade Trees
– block out the desert heat with shade trees that make the outdoors more bearable with a large canopy such as those produced by Oak, Chinese Elm, or a variety of Maple trees.
Citrus Trees
– add an abundance of color to your outdoor environment and a wealth of delicious fruit to your recipes with citrus trees, which are among the most popular fruit trees planted in warmer climates. Choose from Whitfill Nursery's selection of Lime, Grapefruit, Lemon, Valencia Orange, and Tangelo trees.
Flowering Trees
– with blooms in every color of the rainbow and then some, flowering trees add a unique dimension of color and scents to your outdoor environment. For a variety of lush and colorful blooms, choose among Hong Kong Orchid, Jacaranda, Oleander, Myrtle, and Palo Verde trees.
While trees add great structure to any outdoor environment in Phoenix, Arizona, there is more to a great outdoor setting than trees. 

More than a tree nursery, we can make your property more appealing from the ground up with plants and shrubs. We offer the following varieties: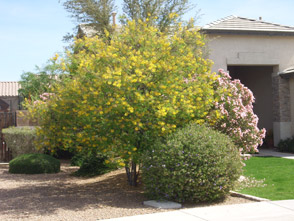 Shrubs
– smaller than a tree but with many of the same characteristics, shrubs have numerous woody branches, rich green foliage and colorful blooms. Shrubs such as Lantana, Dwarf Oleander, Bougainvillea and Sage are common in the desert climate.
Tropical Plants
– enjoy the comfort of an island setting in your own backyard with tropical plants that provide vivid color to any environment. Select from a wide variety of tropical plants including Aloha Lilies, Succulents, and Banana trees among others.
Whitfill Nursery has the plants, trees and shrubs, either exotic, tropical or domestic, to create the environment you desire both outside and inside your Phoenix, Arizona property.
Learn more about Whitfill Nursery by reading our About Us page or visiting one of our three Valley locations. If you have a question contact us using the form below and find out why Whitfill Nursery is "where we still do the digging".